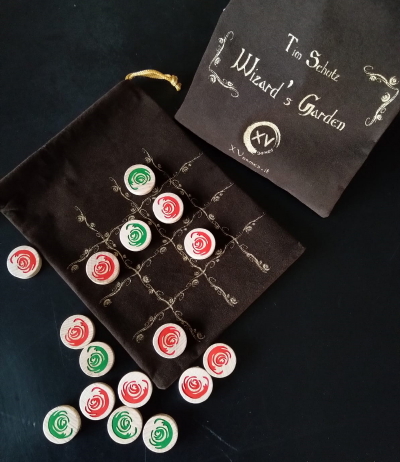 Welcome to the Wizard's Garden. In this part of the garden is the Alesalitis plant, a rare and strange little plant that has a tendency to change the color of its flowers every time another Alesalitis is planted next to it. From this plant you can harvest two types of special flowers that a wizard needs, Dovetail and Ravenclaw.

A simple two player abstract strategy game that is played on a 4x4 board. The round game pieces (called seeds) are one color on one side and a different color on the other side. Players draw the seeds from a common pile and place them on the board. Since neither player claims a color and all the seeds are shared, you place the seed with the color you want it to be on the board. Make a line of 4 in row, in all the same color, and you score a point. Simple, right! There's a few more rules, but the game is very easy and quick to learn.

Wizard's Garden - The Alesalitis Plant was a finalist in the 2004 About.com & Abstract Games Magazine's Shared Pieces Game Design Competition.

Wizard's Garden is currently being published by XV games as one of their Bagstracts (abstracts games in a small portable bag). You can play Wizard's Garden on line at Super Duper Games where there is also a AI version if you want to take on a computer. I frequently lose to it.
Check it out Wizard's Garden on the Board Game Geek.

A wonderful review.